Volunteers and Scouts Clean Up
Last Saturday was clean up day at the historic Flint House in Scotia. Thanks to local Boy Scouts and Girl Scouts the grounds look great.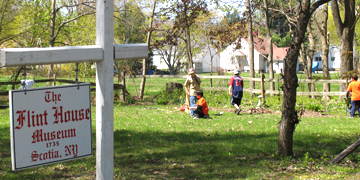 Helpers include Molly Kalasinski, Sarah Turnbull from Junior Girl Scout Troop 91 and Beth Turnbull from Brownie Troop 150. From Cub Scout Pack 2, Joe & Nate Rizzo, Drake & Kevin Rudolph, Joey & Danna Sanchez, Chris & Conner Sullivan, Nathan, Amy and Joe Semerod. Also helping were Joanne & Fred Turnbull, Armon Benny, Marjorie Engelhardt, Kevin Hoosier, Linda Kalasinski and JoAnne Turnbull.
At the same time, volunteers from the local Elfun Society were helping to clean up Collins Park and make it ready for summer.