Volunteers needed for ABC's Extreme Makeover
If you haven't seen Extreme Makeover - Home Edition
you should tune into ABC on Sunday night at 8:00 PM. It's on just before Desperate Housewives. The team from Extreme Makeover is trying to build a new house in each of the 50 states and for New York, they've picked the Oatman-Gaitman family in nearby Colonie.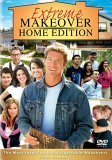 A number of local companies have already signed up to help including Amedore Homes, and Curtis Lumber. You too can sign up today and volunteer at by going to
http://www.amedorehomes.com/index.cfm?method=Volunteer.Home
Demolition will begin on March 24th at the 23 Fairway Lane in Colonie. It's just off Consaul Road, across from the Town of Colonie Golf Course. I can't wait until they MOVE THAT BUS on May 20th.