79th Memorial Day Parade
The 79th Annual Memorial Day Parade will be held in the village of Scotia on Wednesday, May 23rd at . This year's theme is "Before You Go" to honor and thank the Veterans from World War II for preserving our way of life.

The Grand Marshall will be Colonel Karen E. Love, the 109th Mission Support Group Commander at Stratton Air National Guard Base, Glenville, NY.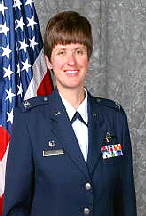 Grand Marshall, Col Karen E. Love

Honorary Grand Marshall is Carlos M. Barrera, United States Marine, Survivor of Iwo Jima, and World War II. Following the parade, there will be a memorial service held in Collins Park near the library. Memorialized will be Herb Callinan, US Navy, and WWII aerial gunnery instructor.
"Herb Callinan was born in 1917 and passed away in February 2007. He was born in Illinois and came to Scotia after WWII.


After the war he was an FBI agent in Albany, followed by working as an investigator for the Civil Service Commission. He retired in 1975.

He was the past Grand Knight of the Knights of Columbus, on the Board of Scotia Parks and Recreation Committee, one of the founders of the Scotia-Glenville Senior Citizens Center, the citizen of the year for the Rotary Club, and received a citation in 1998 from the NY State Assembly for work with senior citizens.

Additionally, he was a mentor at Glen-Worden School in Glenville and received the PTA Founders Day award in 2006.

Herb resided in Scotia with his wife, Alice. He has four daughters.

We honor him today as a veteran of WWII and for his outstanding service in his community. "