Canalfest Ski Show Practice
I stopped by Jumpin' Jack's this evening and caught the U.S. Water Ski Show Team during one of their many practice sessions. You can see the Ski Teams full show this Sunday night.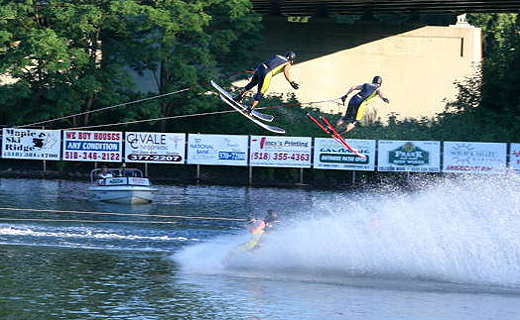 Click to see more Ski Team Practice Photos.
For more info on the
U.S. Water Ski Show Team, Click here
.
For more info on
Lock 7–12 Canalfest, Click Here
I'll be down on Saturday night at 6:00 to take photos of the Canalfest Boat Parade which you won't want to miss. I hope to post photos online again this year in case you miss it.
On Sunday night, the Water Ski Show starts at 6:00 followed by Country Singer, Sean Patrick McGraw in Freedom Park. The night ends with a fireworks display for all.
Labels: Canalfest, Jumpin' Jack's, Mohawk River, Ski Team