Tiny Bubbles in Collins Lake
This is an election year in the village and some materials have already hit the mail boxes. Both major parties are looking for candidates to run for three open positions; a new mayor and two trustees. I fully expect this year to be typical with both parties claiming successes and putting blame to the other party for failures.
As Chairman of the Village Park Board my focus has been on improvements to Collins Lake and surrounding park land. I'm happy to report that members of both parties have been supportive of those issues I care about.
One of our requests for Collins Lake is the addition of a Lake Aeration System. Park supervisor Jim Marx has spent years researching ways to improve our lake and this may be the year we see action. The mayor and all five trustees have voiced their support to an aeration system and other methods which may make Collins Lake one of the cleanest around.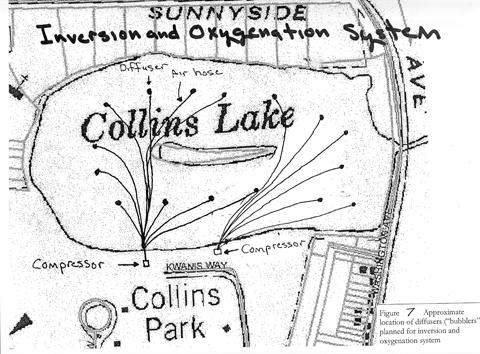 Proposed aeration system

If you're interested in becoming a Mayor or Trustee you're asked to call.
Democrats call Cliff Semerad at 377–3813
Republicans call Tom Neals at 377–6956